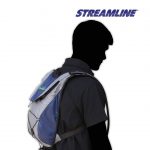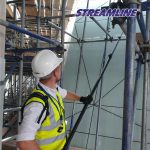 11mtr, 40ft reach Dragonfly®4 Internal Window Cleaning System complete with STREAMLINE OVA8® pole,
Product Code: DRAGONFLY4-OV8-40
In Stock
Product Description
The STREAMLINE® DRAGONFLY® is the perfect answer to internal glass cleaning where a ladder or other reach equipment is normally required, as it allows you to clean windows at height with your feet on the ground. With a simple pump system and bottle filled with pure water or a light detergent glass cleaner in a backpack and a microfibre pad on a swivel mop plate attached to a telescope the DRAGONFLY® simplifies internal window cleaning forever.
Areas of use include car showrooms, stair wells and atrium in office blocks, schools, colleges, hotels, airports, shopping centres the opportunities are endless!  Saving time, saving money...
The DRAGONFLY®4 internal window and glass cleaning kit brings you the latest innovation from the STREAMLINE® range of high reach cleaning equipment. It is the simplest, safest and most efficient way to clean internal windows at height – reaching up to heights beyond 10 metres!
The DRAGONFLY®4 relies on no detergents or chemicals and yet cleans a multitude of surfaces, including windows, mirrors, cladding and stainless steel surfaces to a sparkling and spot-free finish. With a compact battery and pump combination mounted in the comfortable backpack, controlled by a simple switch on one of the lightweight STREAMLINE® OVA8® poles the DRAGONFLY®4  has proven to clean at height up to three times faster than traditional methods … and safely from the ground.
Environmentally friendly – no chemicals required
Rechargeable battery – ensures the task can be completed without the worry of having to have spare batteries
STREAMLINE® OVA8® telescopic poles – no modular pole sections lying around
Can be fitted to any of the pole sizes from the STREAMLINE® OVA8® range – reaching beyond 10 metres
More Product details +
Product Description
Returns
Reviews
Delivery
Product Description
11mtr, 40ft reach Dragonfly®4 Internal Window Cleaning System complete with STREAMLINE OVA8® pole,
Product Code: DRAGONFLY4-OV8-40
What does the DRAGONFLY®4 kit include?
1,500ml pouch in a backpack
Secured battery and pump, with a lighted on/off switch
240-volt battery charger
Padded backpack
Remote control 'press-switch' assembly
Mop plate head assembly with fine nozzle
4 x microfibre pad (2 x scrub, 2 x polishing)
An enclosure for safe storage of the backpack when not in use.
Charging time: 6 hours
Running time: 8 hours
Specifications of Telescopic Pole
Pole Material: 100% Carbon Fibre
Number of Sections: 8
Minimum length: 2110mm
Maximum Length: 12400mm-40ft
Acheivable Height: 43ft
Weight (pole only): 2.50kg
Tubing: External Hose Kit
Head Assembly: Aluminium 25cm Mob Plate with Spray tip
Returns
We believe in providing only the highest quality products at the most competitive prices. This does not mean though that we will compromise on our after-sales service. We are passionate about our products and insist on putting the customer first, every time. With a dedicated technical sales team only a phone call away, you can buy from us with total peace of mind.
Our standard warranty for all Streamline® brand products is 12 months from date of invoice but we really want to look after you. Call us to discuss if something has gone wrong. We need to know so that we can improve and you may be surprised how we can take of your issues.
If the product needs to be returned, please complete the returns form, where we can complete the process and collect your Streamline® Item.
Reviews
Delivery
Standard Products - All items apart from custom build products and trailers are available to be shipped within 24 hours from our stocking warehouse to mainland UK for a cost of £12.00 plus VAT. We offer standard next day service for all standard postcode shipping areas. If you are outside these standard national postcodes then we will advise at time of processing your order for you. You are also welcome to come to our UK stock facility in Newton Abbot to avoid the shipping cost.
Trailers - We prefer to deliver our range of trailers personally, therefore a delivery charge of £250.00 plus VAT, per trailer, is applicable for delivery to UK mainland. Please select the Trailer Delivery option at the checkout if purchasing through the website.
Trailers can be collected from our yard in Newton Abbot, by prior arrangement, to avoid the delivery charge if preferred.
Click here to see latest Towing Rules & Regulations and to check whether you are eligible to be towing our products.