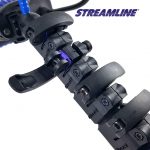 STREAMLINE® OVA8® HI-MOD 40T Carbon Fibre Telescopic Pole – 6.7mtr / 22ft
Product Code: OV22-40-E
In Stock
Product Description
After consultation with our customers, who wanted a Hi-Mod version of the STREAMLINE® OVA8®, you can now buy this great pole.
Number of Sections: 6
Minimum Length (Closed Length) : 1,500mm
Maximum Pole Length (Extended Length): 6,700mm / 22ft
Achievable Height: 25ft
Weight (Pole Only): 1150g
Pole Tubing Length: 9mtr
Also Includes:
Profiled Base Cap – Prevents hose from kinking
2 x Pole Strap - Non-slip 300mm
5mm Pole Tubing – 9m
OVA8 3inch Angle Adapter - version 2
(The HI-MOD 22 can be identified by the gold wrap on the base of each section – Base section does not have this wrap)
More Product details +
Product Description
Returns
Reviews
Delivery
Product Description
STREAMLINE® OVA8® HI-MOD 40T Carbon Fibre Telescopic Pole – 6.7mtr / 22ft
Product Code: OV22-40-E
The STREAMLINE® OVA-8 carbon fibre telescopic poles are designed in an 'oval' profile section, reducing the wear of the sections from the pole clamps.
Each STREAMLINE® OVA-8 pole includes our adjustable nylon gooseneck, tubing, a STREAMLINE® double trim brush and a male hose coupling of your choice!
Pole stress –
When designing an anti-rotational oval shaped pole, it was discovered that an additional feature was provided – stiffness.
The two flat sides of the OVA-8 telescopic pole add more stability and therefore more control for the operator, a huge "safety" plus. Any experienced operative will tell you how dangerous and annoying a spinning pole section is. These flat sides will cancel out that "whipping effect" either from moving a pole at height from one window to another, or 'bouncing off the glass' motions. Operators will be more productive and work safer – both for themselves and others around them.
Hand ergonomics –
Holding any item in the hand for long periods can be painful. The OVA-8 design combines two flat sides. These sit more comfortably in an operator's hand and allow the tips of their fingers to sit on the flat edge.
It's been found that handling an OVA-8 pole requires less grip to control the pole, either from pushing it up and down, or from firmly holding the base section to move the pole to the next window.
Anti rotational pole sections –
Our no.1 goal. Arriving at the final oval shape wasn't easy, as many other shapes had failed (round, square, hexagon, octagon, lobe) in one area of design or another, so designing the right shape had to provide more than one feature of anti-spin.
Eliminating the rotational spin of the pole section around the clamp area results in less wear of the pole material. Also, because of the anti spin pole section, our OVA-8 oval clamps work less due to only having to prevent the pole sections from moving up or down.
Returns
We believe in providing only the highest quality products at the most competitive prices. This does not mean though that we will compromise on our after-sales service. We are passionate about our products and insist on putting the customer first, every time. With a dedicated technical sales team only a phone call away, you can buy from us with total peace of mind.
Our standard warranty for all Streamline® brand products is 12 months from date of invoice but we really want to look after you. Call us to discuss if something has gone wrong. We need to know so that we can improve and you may be surprised how we can take of your issues.
If the product needs to be returned, please complete the returns form, where we can complete the process and collect your Streamline® Item.
Reviews
Share your thoughts!
Let us know what you think...
Delivery
Standard Products - All items apart from custom build products and trailers are available to be shipped within 24 hours from our stocking warehouse to mainland UK for a cost of £12.00 plus VAT. We offer standard next day service for all standard postcode shipping areas. If you are outside these standard national postcodes then we will advise at time of processing your order for you. You are also welcome to come to our UK stock facility in Newton Abbot to avoid the shipping cost.
Trailers - We prefer to deliver our range of trailers personally, therefore a delivery charge of £250.00 plus VAT, per trailer, is applicable for delivery to UK mainland. Please select the Trailer Delivery option at the checkout if purchasing through the website.
Trailers can be collected from our yard in Newton Abbot, by prior arrangement, to avoid the delivery charge if preferred.
Click here to see latest Towing Rules & Regulations and to check whether you are eligible to be towing our products.