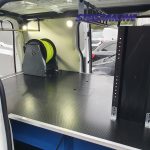 2021 (70 Reg) Citroën ë-Dispatch Electric Window Cleaning Van
In Stock
Product Description
2021 (70 Reg) Citroën ë-Dispatch Enterprise M 50kWh WHITE
PRICE FROM £45,050+VAT  -  (*Plug-in Van UK Government Grant Available)
FINANCE OPTIONS AVAILABLE
Citroën ë-Dispatch - 100% ëlectric window cleaning van is the ideal electric partner for professionals who need to drive both in the city and on longer journeys. With a benchmark electric range of up to 205 miles and a fast charge up to 80% in 30 minutes, without any compromise on load volume, functionality and equipment, this 100% electric van gives you a ticket to travel whenever you want in low emission zones. The Citroën ë-Dispatch can be fitted out with a Streamline® Dual Operator Window Cleaning System - Streamline® SMARTANK™ 650 litre Reverse Osmosis water purification system complete with secondary-floor for additional storage. Includes full 12 Month Streamline® Warranty and technical support on the system.
See below for a full list of all items included in this package.
We have more of these vehicles available with an adaptable specification to suit your needs - Please call us on 01626 830830 for further details.
*PLEASE NOTE THIS VEHICLE IS NOT YET FITTED OUT AND CAN BE ADAPTED TO SUIT YOUR REQUIREMENTS*
ALL PRICES ARE BASED ON THE VEHICLE INCLUDING THE BELOW SPECIFICATION
More Product details +
Product Description
Returns
Reviews
Delivery
Product Description
Returns
Reviews
Delivery