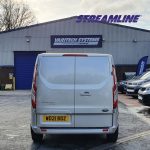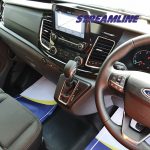 2021 (21 Reg) Ford Transit Custom Limited Window Cleaning Van IN STOCK
In Stock
Product Description

2021 (21 Reg) 2.0 Transit Custom Van 320 L2 H1 180PS (Auto) Diesel EU6
FINANCE OPTIONS AVAILABLE
Ford Transit window cleaning van for sale with only 70 delivery miles - This vehicle can be fitted out with a Streamline® Dual Operator Window Cleaning System - Streamline® SMARTANK™ 650 litre Reverse Osmosis water purification system complete with secondary-floor for additional storage. Includes full 12 Month Streamline® Warranty and technical support on the system.
Streamline® SMARTANK™ 650 Reverse Osmosis System, Dual Operator which includes DI filtration, capable of consistently producing thousands of litres of pure water, with ease of maintenance. The SMARTANK™ is baffled to restrict water movement in transit. With a height of less than 400mm this crash tested system is a safe, low centre of gravity van system, taking up minimal van space.
See below for a full list of all items included in this package.
We have more of these vehicles available with adaptable specification to suit your needs - Please call us on 01626 830830 for further details.
*PLEASE NOTE THIS VEHICLE IS NOT YET FITTED OUT AND CAN BE ADAPTED TO SUIT YOUR REQUIREMENTS*
ALL PRICES ARE BASED ON THE VEHICLE INCLUDING THE BELOW SPECIFICATION
More Product details +
Product Description
Returns
Reviews
Delivery
Product Description
Returns
Reviews
Delivery