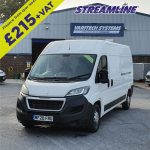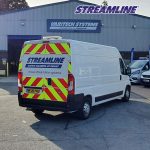 2020 (20 Reg) Peugeot Boxer Window Cleaning / Hot Pressure Washing Van
In Stock
Product Description

2020 (20 Reg) 2.0 BLUE HDI 335 PROFESSIONAL L3 H2 EU6 5DR (Manual) Diesel
FINANCE OPTIONS AVAILABLE
Peugeot Boxer window cleaning and pressure washing van for sale with only 500 miles – This vehicle is ready to start making you money. Designed to be used on larger commercial cleaning projects, it has been fitted out with a Dual Operator Streamline® BRAVO 650l Reverse Osmosis Window Cleaning System complete with the Hotcube High Pressure Washer / Low Pressure Steam system drawing off the same water tank. Includes full 12 Month Streamline® Warranty and technical support.
The Streamline® BRAVO™ 650 dual operator window cleaning system, constructed with the Hotcube Hot Water pressure washer allows 3 operators to all work from one vehicle at the same time, saving you time and money.
See below for a full list of all items included in this package.
We have more of these vehicles available with adaptable specification to suit your needs – Please call us on 01626 830830 for further details.
More Product details +
Product Description
Returns
Reviews
Delivery
Product Description
2020 (20 Reg) Peugeot Boxer Window Cleaning / Hot Pressure Washing Van
This Window Cleaning / Hot Pressure Washer Van Includes:
HIGH LEVEL PURE WATER WINDOW CLEANING SYSTEM
Streamline® BRAVO™ 650 litre dual operator RO/DI system
Split charge pro relay system for Euro 5/6 vehicles including 110ah battery, enclosure, relay and cabling
NEW Streamline® IPR6 internal pole rack with stainless rollers – roof mounted
Stainless 4-hole bumper port bracket c/w stainless fittings
2 x stainless steel wheeled hose reel c/w 100m of 8mm Streamline® HIVIZ Hose
PRESSURE WASHING / LOW PRESSURE STEAM SYSTEM
Highline™ Comet FDX Hot Cube 5lpm – 16Lpm / 200Bar / max temp 140 degrees C, Yanmar L100, static pressure washing system
Exhaust fume conveyor and roof adapter for above kit.
1 x twin stack hose reel kit with hose guide & 50-mtrs twin wire hose, F22 end coupling and 100m x 12.5mm tank fill hose
High Pressure 33″ heavy duty dual lance with 1/4″ MEG 25-degree fan nozzle
Additional Accessories
Black Linex polyurethane waterproof floor coating
Poly lining kit for internal walls
Shelving storage system
On-board personal hygiene and welfare facilities
12V Streamwash™ hot water sink unit
Light commercial vehicle first aid kit
Skin safety cradle 3-step system hand dispenser
Centre feed towel dispenser
Powder fire extinguisher with mounting bracket
Additional Accessories
Roller bar full width internal storage racks
3 x 12V LED floodlights with mounting brackets – cabled
Load restraint kit with straps
Over wheel arch racking system
Water-proof poly lining kit for LWB vehicle
12V amber flashing roof light bar – 600mm
Expandable orange HDPE chapter 8 works barrier with swivel feet
Chapter 8 rear door signage
VEHICLE SPECIFICATIONS:
2020 (20 Reg) 2.0 BLUE HDI 335 PROFESSIONAL L3 H2 EU6 5DR (Manual) Diesel
Colour: White
Power: 140 PS
Mileage: 500
Manual
Diesel
TECHNOLOGY
Touch screen navigation pack
Bluetooth phone system, radio, AUX Input
Touch screen and audio controls
Rear parking sensors
Cruise control
Electronic stability control
INTERIOR
Electric front windows
Air conditioning
Electric window front
Fuel computer
Multifunction wheel
Power steering
Black cloth upholstery
Returns
We believe in providing only the highest quality products at the most competitive prices. This does not mean though that we will compromise on our after-sales service. We are passionate about our products and insist on putting the customer first, every time. With a dedicated technical sales team only a phone call away, you can buy from us with total peace of mind.
Our standard warranty for all Streamline® brand products is 12 months from date of invoice but we really want to look after you. Call us to discuss if something has gone wrong. We need to know so that we can improve and you may be surprised how we can take of your issues.
If the product needs to be returned, please complete the returns form, where we can complete the process and collect your Streamline® Item.
Reviews
Share your thoughts!
Let us know what you think...
Delivery
Standard Products - All items apart from custom build products and trailers are available to be shipped within 24 hours from our stocking warehouse to mainland UK for a cost of £12.00 plus VAT. We offer standard next day service for all standard postcode shipping areas. If you are outside these standard national postcodes then we will advise at time of processing your order for you. You are also welcome to come to our UK stock facility in Newton Abbot to avoid the shipping cost.
Trailers - We prefer to deliver our range of trailers personally, therefore a delivery charge of £250.00 plus VAT, per trailer, is applicable for delivery to UK mainland. Please select the Trailer Delivery option at the checkout if purchasing through the website.
Trailers can be collected from our yard in Newton Abbot, by prior arrangement, to avoid the delivery charge if preferred.
Click here to see latest Towing Rules & Regulations and to check whether you are eligible to be towing our products.